What is Reseller hosting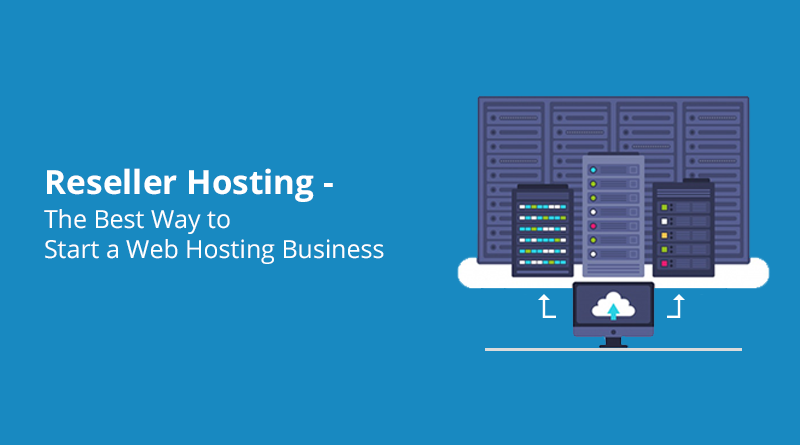 As most of you will likely already know, reselling is when you take someone else's product and sell it as your own. By avoiding expensive development and running costs you can make money by reselling someone else's products. Reseller hosting is much the same only you're selling web hosting from a provider such as Momentum Hosting as your own.
Reseller hosting is a decent way to make an extra income if you're a web designer, developer, an agency or even if you do something completely different. You can 'white label' your resold hosting and add your own branding or just include hosting as part of the price for development or a web design.
Essentially, if you want, you can start your own web hosting business – hence reseller.
The product is as flexible and as customizable as you need it to be.
Let's dig deeper into what is reseller hosting.
What is Reseller Hosting and what can it do for you?
Most reseller hosting packages work on a standard wholesale basis. You sign up to a reliable host, set up a reseller account to access wholesale prices, you add your own branding if required, and then resell that web hosting at a markup. You can often set your own pricing and conditions and as long as you work within the host's own conditions. You can then operate as you see fit.
It might sound complicated but it isn't. Good web hosts have the software already setup with specific reseller packages that can make short work of setting everything up, for example Momentum Hosting, comes with CPanel and WHM already set up. You would only need to create an account for each new client you acquire.
It is then just a matter of registering a new account, selecting the amount of disk space or bandwidth you want to allocate and then going from there.
Some web hosts will charge a flat monthly fee as well as a fee for the services. Some won't charge a flat fee and instead will charge on a pay-as-you-go basis.
Managing reseller hosting
When you sign up for reseller hosting, you will typically gain access to an admin console in Web Host Manager (WHM) or another admin package. Within that will be your allocated disk space and bandwidth allowance per month. The panel will contain the tools necessary to be able to set up new accounts, assign disk space, email addresses, domains, and the typical features of web hosting.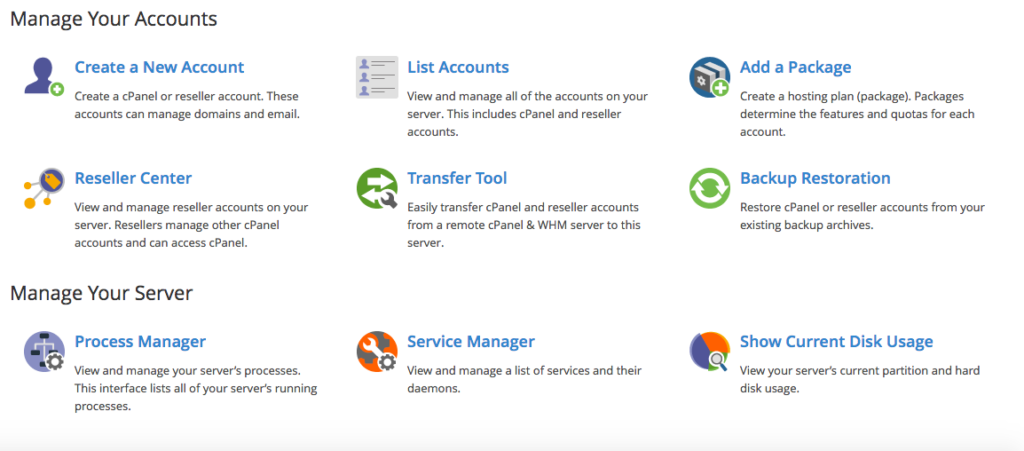 You can also create your own hosting plans to resell to clients, provide administrative rights to users, manage traffic, advertising and every aspect of web hosting. All while using someone else's hardware and software.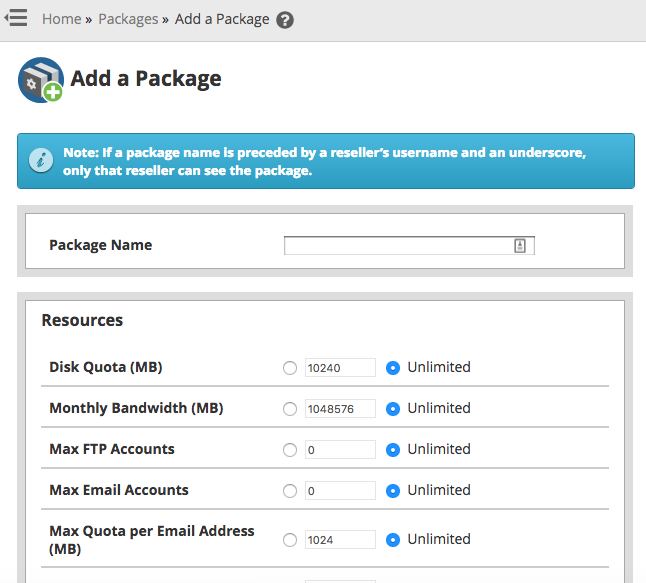 If you have ever set up your own shared hosting for a website, setting up reseller hosting is very similar. The main differences are that rather than just set up your own domain, email and website, you set up the framework within which your clients will do all that.
A significant benefit of reseller hosting is that your clients will have their own cPanel or other dashboard where they can manage their own account. This saves you a lot of administration and means reseller hosting becomes more like a residual income plan than a full time job.
Some key advantages of reseller hosting
If you're a web developer or designer, offering hosting as part of the package means the client has less to do. The less work a client has to do to get their website up and running, the more likely they are to sign with you. They will have enough work to do getting their venture off the ground without having to manage hosting too!
Other advantages of reseller hosting include:
The ability to white label
White labelling takes someone else's product or service, in this case web hosting, and allows you to add your own branding and sell it as your own. It enables you to provide hosting to clients as if it was your product.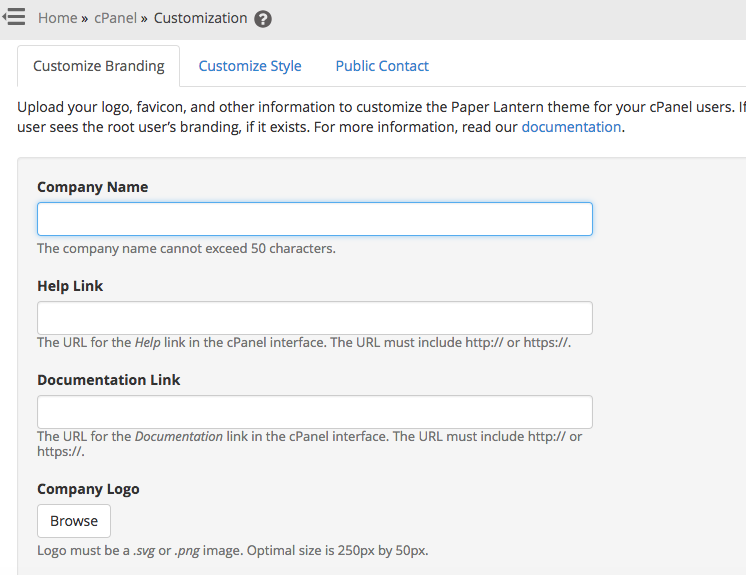 Create your own hosting packages
Depending on your typical client profile, you can set up flexible hosting, WordPress hosting, SSD hosting or whatever type of package you think best fits their needs. You can then charge whatever the market can sustain and pocket the profit.
cPanel management
cPanel is not the only management dashboard but it is one of the most popular. Whatever control panel your host uses, it should offer easy management and finite control over the hosting packages you resell. It should also offer metrics and measurements so you can maintain service levels and manage issues before they arise.
Low barrier to entry
There is a definite learning curve to reseller hosting if you haven't managed web hosting before. If you have managed shared hosting or something similar, it's a small step up from there with a little extra administration. If you have used cPanel to set up your own website, the process is much the same. Only this time, you're setting up multiple hosting accounts from your own master account.
Pricing for such packages are typically even lower than the price of a standard VPS, with packages at Momentum Hosting starting at just UGX 62,500/month, it's only a slight bump from shared hosting.
Convenient access to client websites
If you offer web services to clients who also host with you, there is no waiting for them to send logins or delays while they reset their passwords. You have fast, unfettered access to their accounts. This means you can react quickly to issues or provide faster than usual customer service. All can be repaid in loyalty and perhaps referrals.
Scalability
Most reseller hosting accounts are scalable so you can begin small and expand as your client list grows. As hosting is virtual, scaling is done quickly and usually without any extra admin costs.
Earning income from reseller hosting
Nobody is going to pretend you're going to get rich with reseller hosting but you can make extra income from it. You also gain an income from those clients attracted by the complete packages a web designer can offer that includes site setup and hosting in one.
Your residential income depends on the wholesale price you pay to the host and the maximum your market can sustain. As mentioned, some hosts charge a monthly maintenance fee for reseller hosting accounts but many don't. It pays to research the market, what's on offer and at what price before you settle on one provider.
Most reseller accounts are scalable so you can start small when you first launch your offering and scale up only when you need to. This is a cost-effective way to do business and keeps your costs down as much as possible.
What to look out for when looking for reseller hosting
If you're going to be putting your reputation and your brand on the line when you offer reseller hosting, you had better know what to look for in a host. Fortunately, it's the same qualities you look for in any service provider.
Uptime guarantees
Reliability is key in any web host. That is even more true if you are reselling services to other businesses. Select a web host that can guarantee a minimum of 99.9% uptime or close to it. There really is no need to settle for less. That means your clients should rarely, if ever, see downtime and should rarely, if ever, be on the phone demanding support!
cPanel or other control panel
You want to use reseller hosting as an extra income source not as another onerous task. With that in mind, look for a host that uses cPanel or other recognized control panel that makes life as simple as possible for you and your clients.
24/7/365 support
A client's patience is very thin and no matter how happy they are with you, if they want something, they want it immediately. In those situations when you cannot address an issue yourself, you need a host you can count on to be there when you need them most. Many top tier web hosts offer 24/7/365 support so there is no need for anything less. Momentum Hosting offers such support, so from that aspect, you're safe with us.
Competitive pricing
Web hosting is amazingly competitive and there are some great deals out there if you can find them. Spend as much time as you can analyzing prices, billing types and fees and settle on the one that makes the most sense for you. It may not necessarily be the cheapest option but one that delivers the features you need.
How to get started with reseller hosting
Reseller hosting takes a little planning and a lot of research before you can get started. Hopefully, this guide has given you a much better idea of what is involved and how you can make an income from it. Once you're ready to get started you should follow a plan similar to this:
Find out what web hosting your clients need and what price they are willing to pay.
Research web hosts that meet the above criteria.
Filter those web hosts according to reviews and satisfaction ratings.
Filter further according to cost and features.
Sign up for the smallest reseller hosting plan you need.
Set up your account and create your own packages.
Brand it, price it so you make a profit and begin marketing it!
Now that you understand what is reseller hosting, as long as you choose a competent web host, such as Momentum Hosting, which fully caters for all your needs, it should only take a few hours to set up your master account and packages, brand them and have everything ready to go. All you then need to do is get the word out.